As a fifth generation Montanan, I look to the future with a mixture of wonder and worry, and for far too long, we have been willing to accept short-term bandages to long-term problems. We have begun to turn the corner, but there is much work to be done.
In Missoula County, we are blessed with hard workers,
abundant natural resources,
and a respect for the diversity of many cultures.
We also have many challenges.
Cities change and we are at that threshold.
As we move into the new century, we need bold leadership willing to tackle the big issues. That means a legislature that rids itself of the current politics of polarization, which is stalling progress and cheating all of us out of brighter tomorrow. As your legislator, I do all I can to stop the fighting and to bring us together around the issues…for Missoula County and Montana
My Issues
1. Economy & Jobs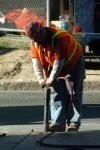 Frankly our economy is not keeping up with the rest of the country. Our state's per job income is the lowest in the nation. Our critically important small businesses are struggling under profits that are too small. We need to do better. Together as allies and not combatants the legislature, Montana's business community and our workers need to reorder our state's economic priorities. We need to focus public money on research and development and small business job creation. We need to invest in worker retraining, apprenticeships and school to work. We need to spur the venture capital market in Montana. We need policies that make Montana an attractive business climate, create higher paying jobs with benefits, and align with our values.
2. Education
K-12
Whether our kids just get by, or thrive, tomorrow will depend on the education we give them today. Montana cannot continue the destructive pattern of underfunding our education programs by allowing the legislature to push the burden of funding on to homeowners, senior citizens and small businesses. We need to ensure our local schools have the resources to remain open. We need to find a way to fund our education system that is sustainable and equitable.
Higher Education
Tuitions at Montana's post-secondary schools including the university system, tribal colleges, community colleges, vocational, technical and adult education are skyrocketing leaving many Montanans unable to afford the quality education necessary to support themselves and their families. Ensuring that we have the best local schools and universities promotes a higher quality of life for our children, families and communities while producing the educated work force to make Montanans competitive in our state, nation and globally. We must provide sufficient and equitable funding to assure that post-secondary education is affordable to all Montanans.
3. Taxes
After 16 years of Republican control, Montanans are finding themselves with a tax system that does not meet the needs of our changing economy. Homeowner taxes are skyrocketing, yet we still are not able to fully fund our education and health care programs. We need to take a hard look at our current system and make changes that provide tax relief for homeowners, agriculture and small businesses that have been hindered by a suffocating tax burden for decades. We need legislators willing to work together to create a fair and equitable tax system.
4. Energy
Montanans are paying $300 utility bills and $2 per gallon of gas. Our businesses and our citizens will not prosper without affordable and reliable energy. The legislature needs to gather around the table to create a long-term plan to meet Montana's energy needs including creating incentives to encourage production of ethanol and biodiesel in Montana. We can no longer rely upon short-term solutions; the future of Montana is depending upon us.
5. Environment
A clean, healthy environment is a must if we are to preserve what make Montana special. Protecting our natural resources and respecting Montana's cultural heritage and love of the outdoors is our obligation to future generations. A healthy environment and a growing economy should be seen as complementary goals. We must advocate for responsible and sustainable policies to protect our natural resources. We must work to ensure that there is clean air and water for the next generation. And we must develop policies that allow Montanans continued access to world-class hunting, fishing and recreational opportunities.
6. Health Care
Too many Montanans are unable to obtain affordable, quality health care. Thousands of our children do not have access to any health care or doctors besides the emergency room. Montana cannot reach its potential when our citizens are receiving medical care that is too little, too late. There are programs available to provide affordable health care, but our legislature has not provided the funding necessary to cover even those who are eligible. This is not acceptable. We must fully fund the Children's Health Insurance Program to ensure health care coverage for all Montana's children. We need to provide tax credits that encourage small businesses to offer health care to all employees. We need to help small businesses come together to purchase pooled health insurance. We need to fund Medicaid adequately for those who live in poverty.